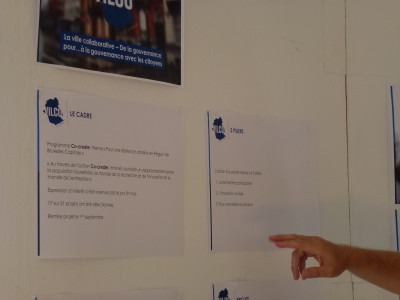 Le projet VILCO s'intéresse aux manières d'améliorer la collaboration entre pouvoirs locaux et collectifs citoyens pour augmenter la résilience des dynamiques locales en faveur de l'environnement. Il est financé pendant trois ans par l'Institut Bruxellois pour la Recherche et l'Innovation, Innoviris[1], dans le cadre de l'action « Co-create » qui depuis 2015 finance des projets  de  recherche appliquée  ou de développement expérimental. L'objectif de « Co-create » est de « soutenir l'innovation via des processus de co-création » (Innoviris 2014)(p.2). Au fur et à mesure des années, Innoviris a changé son approche sur l'apport de la recherche académique dans les projets. En 2015,  l'accent était porté sur le concept de « co-création » et la recherche associée aux modalités des Livings Labs : « Cela signifie que la plateforme expérimentale ne doit pas uniquement être un espace/terrain pour réaliser l'étude mais bien un espace de recherche participative en co-création. » (Innoviris 2014)(p.8). En 2016, il inscrivait la recherche participative dans la dimension de « Recherche et Innovation Responsable (RRI) » (Innoviris 2015) (p. 3). En 2017, il se référait à la « Recherche Action Participative » (RAP) (Innoviris 2016) (p.3).
Bien que les premiers projets, Co-create 2015, aient tous été portés par des centres de recherche (académique ou non), des projets du Co-create 2016, dont le projet VILCO, sont portés par des acteurs de terrain.
Comment dès lors mener un projet de recherche-action-expérimentation sans que celui-ci soit porté par un centre de recherche? Quelle est la valeur ajoutée d'une telle approche ? Quels sont les apprentissages pour une approche académique « classique » ?
La spécificité de la recherche dans un projet de transition sociétale
Le projet VILCO traite de questions de gouvernance pour augmenter la résilience urbaine. Or, l'évolution de la gouvernance passe aussi par des compétences et rôles émergents de l'université et de la recherche dans la quête de solutions aux problèmes sociétaux. Les modes de gouvernances actuels, intègrent en effet un réseau de plus en plus complexe d'acteurs qui peuvent contribuer au développement d'innovations techniques ou sociétales. C'est ce que les modèles « triple hélice », « quadruple hélice », jusqu'à « quintuple hélice » proposent comme analyse des relations entre des gouvernements, des industries et des universités, mais aussi les médias et la culture ainsi que l'environnement naturel de la société (Carayannis, Barth, and Campbell 2012). Dans le cadre d'une Société de l'information, l'université a alors un potentiel élevé pour générer de nouveaux formats institutionnels et sociaux pour la production, le transfert et l'application de la connaissance(The Triple Helix Research Group 2015).
Ce rôle, l'université peut le jouer en allant au-delà de ses fonctions premières et secondaires d'enseignement et de recherche. Par la « troisième mission de l'université » elle développe une vocation économique de transfert de technologies, et devient entrepreneuriale: l'innovation n'est plus alors cantonnée aux entreprises, mais peut aussi être produite, transférée et appliquée par les universités(The Triple Helix Research Group 2015; McCormick et al. 2014).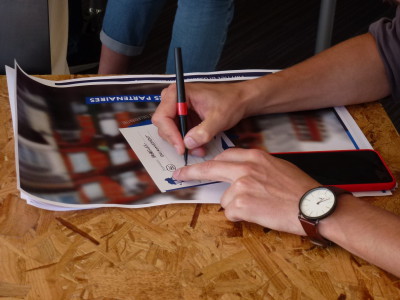 En complément, une nouvelle mission émergerait, qui permettrait à l'université non seulement de contribuer  à l'évolution de la société, mais de la transformer en la co-créant. Celle de « co-création de la durabilité », englobant un champ varié de paradigmes de recherche tels que, par exemple: la recherche action et participative, la transdisciplinarité, ou bien les livings labs. Les frontières entre l'université et a « ville » disparaissent alors pour proposer de nouvelles solutions systématiques (McCormick et al. 2014).
On peut voir en Belgique et ailleurs une montée en puissance de projets de recherche-action participative, à travers le travail de plateforme tel LPTransition, de spin offs tel DRIFT aux Pays-Bas, d'instituts pluridisciplinaires tel l'IGEAT (ULB), des projets Co-Create d'Innoviris… Cependant, ceux-ci restent des projets de recherche dans le sens classique du terme : ces projets visent à augmenter le corpus de recherche scientifique et leur vocation principale est de contribuer au monde académique. Il existe encore, et notamment pour les questions de résilience urbaine, encore une grande distance entre la recherche scientifique et le travail sur le terrain. Trop souvent encore, le vocabulaire employé n'est pas le même et la réalité des deux mondes n'est pas forcément comprise par les acteurs dans le jeu.
Cependant, en dépit de la nécessité et la valeur ajoutée de la science, de son ouverture à de nouveaux types de paradigmes de recherche mêlant les méthodes utilisées (R. B. Johnson, Onwuegbuzie, and Turner 2007) nous avons vu l'émergence d'autres types de recherche dans les décennies passées. Que celles-ci soient due à l'émergence d'expertise hors institutions, de nouveaux medias et réseaux sociaux, de la possibilité de développer ses connaissances de manière virtuellement illimitée, chacun devient peu à peu à même capable de faire de la recherche, empirique du moins. C'est notamment le travail que les acteurs de terrain mènent, le plus souvent à travers des rapports, analyses, exercices de capitalisation, communications auprès des spécialistes ou du grand public.
L'apport des sciences et de la théorie
Les sciences sociales sont une des manières de penser et rechercher des phénomènes sociaux. Cependant, la science est un processus pour penser et poser des questions, non un ensemble de connaissances.  C'est une des nombreuses méthodes pour acquérir de la connaissance et comprendre le monde social (Hoover and Donovan 2011). Et il s'agit du paradigme dominant dans lequel la recherche en sciences sociales sont menées.
La science établit une série de règles et de formes d'enquête qui sont créés par des individus qui veulent des réponses fiables. Elle s'intéresse à la manière dont les questions sont formulées et auxquelles on leur répond La science n'est ni la technologie, ni la superstition, ni l'intuition, ou la croyance, bien qu'ils soient tous les manières d'avancer une connaissance. La science possède un certain nombre de suppositions ou valeurs, notamment que l'explication doit être vérifiée par l'observation (Hoover and Donovan 2011). D'autres éléments de la science comprennent, le fait qu'elle soit :
transmissible dans sa méthodologie pour d'autres chercheurs ;
générale et puisse être appliquée à plusieurs cas plutôt qu'à un seul ;
parcimonieuse en proposant des explications simples ;
explicatif et que de la connaissance puisse être déduite logiquement ; et,
déterministe, hors d'un chaos total.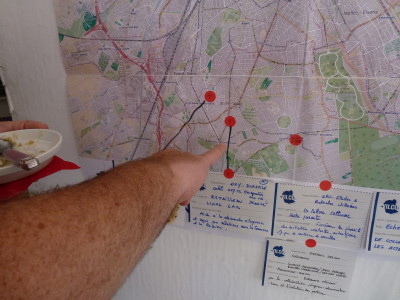 Les théories quant à elles sont des « déclaration ou séries de déclarations qui permettent d'organiser, expliquer et prédire la connaissance. Une théorie [en sciences politiques] consiste en des généralisations combinées avec un ensemble de déclarations, définition de concepts et un engagement pour une approche méthodologique particulière. La fonction principale d'une théorie est d'expliquer des faits singuliers et des occurrences, mais peut-être et de manière plus important d'expliquer des généralisations empiriques »  (J. B. Johnson and Reynolds 2005)(p.33). Les théories sont dont des séries de propositions liées entre elles pour essayer de prédire ou expliquer. Elles spécifient la relation entre des événements ou phénomènes et les conditions à travers lesquelles elles existent.
C'est pourquoi, dans la recherche scientifique, la théorie devrait mener l'enquête et seulement avec son utilisation, en tant que cadre permettant d'analyser le réel selon un certain prisme, elle peut expliquer des phénomènes et relations. Une théorie permet donc de (Hoover and Donovan 2011) (p. 37) :
Proposer un modèle pour l'interprétation des données ;
Lier les études les unes aux autres ;
Proposer un cadre dans lequel les concepts et variables obtiennent des significations valables ; et,
Permet d'interprète le sens plus large des résultats.
En quoi VILCO innove-t-il dans son approche de recherche ?
Sur cette base, le projet VILCO, lui, propose une nouvelle approche : rapprocher le monde académique et le monde de l'action, en
utilisant les cadres théoriques pour comprendre et mieux appréhender les questions de recherche/le travail de terrain ;
nourrir la recherche académique de travail du terrain perçu et cherché par les acteurs de terrain ;
propose des solutions qui permettent d'améliorer la résilience urbaine, et donc d'opérationnaliser les cadres théoriques et analytiques existants pour expérimenter des solutions dans le cadre du projet ;
multiplier les expériences et solutions possibles.
Concernant ce dernier point, c'est pour cela que le projet VILCO se nourrira d'une multitude de cadres théoriques permettant de comprendre et expliquer notre question de recherche. En effet, par ce biais, nous pourront tester un nombre d'hypothèses plus variées et éparses, couvrant plusieurs champs d'analyse.  A ce stade, nous comptons, de manière purement indicative, nous inspirer de :
L'administration publique :

Les interactions entre administration publique et les citoyens (T. Bovaird et al. 2016; Stéphane Moyson, van de Walle, and Groeneveld 2016)
Le policy learning (S. Moyson 2016; Sabatier and Weible 2007)
Des approches de politiques publiques (Tony Bovaird 2007; Denhardt 1999),

Les études de sciences et technologies :

L'institutionnalisation des innovations sociales (Bauler and Pel 2014);
La transition des administrations (Roorda et al. 2014; Brousseau, Dedeurwaerdere, and Siebenhüner 2012; Marsden 2013),
La gouvernance réflexive (Voß, Bauknecht, and Kemp 2006)

D'autres écoles développant des approches sur :

la participation citoyenne (Bifulco 2013; Hurard 2011).
La gouvernance participative (Coenen 2008; Torfing et al. 2012)
Dans la mesure du possible, des représentants des différents courants participeront à une revue critique de notre projet. Nous proposons ainsi de donner une application sociétale directe de leur recherche mais aussi de les inspirer dans la quête de nouvelle recherche académique.
Capitaliser sur l'expérience de VILCO
Le projet VILCO a débuté il y a un an. Adopter une nouvelle approche pour la recherche-action-expérimentation est un travail de longue haleine qui nécessite un réajustement constant entre partenaires de cette co-création.  Nous sommes loin d'un projet de recherche classique avec gouvernance clairement établie dès le départ, où chacun des partenaires prend la responsabilité de ses tâches et les mène à bien – y compris avec les autres partenaires – selon un mandat clairement établi et validé par tous en amont. Ici, la co-création prend un sens plus personnel, engagé et émotionnel que dans le cadre d'un projet où la réflexion théorique et analytique prend le dessus. De plus, les différentes lunettes portées par chacun rend les échanges plus complexes car le point d'entrée est différent : dans un projet académique, le point d'entrée est l'école, la manière de penser des acteurs pour ensuite avancer conjointement sur le projet. Dans le projet VILCO, le point d'entrée est la thématique de travail, et le retour sur les écoles de pensée des uns est des autres en est rendu pus difficile.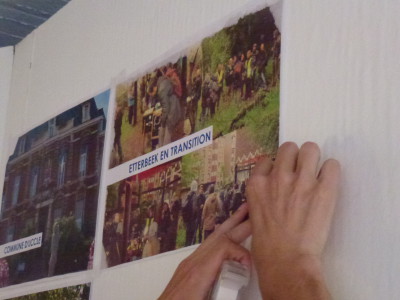 Cependant, le projet VILCO est ancré dans le terrain. Il vise à être directement opérationnalisable et agit directement sur la base de la recherche qu'il effectue. La littérature nourrit l'action dans un souci de mise en œuvre immédiate et d'efficacité. Le projet bénéficie de la recherche de longue haleine précédente,  et cherche à apporter sa pierre à cet édifice. De plus, au vu des profils des partenaires, les avancées du projet se font au-delà du projet lui-même : que ce soit dans les apprentissages qui nourrissent le projet ou dans la manière dont le projet peut agir sur le terrain, les réseaux et activités diverses (professionnelles, personnelles, associatives, etc.) des partenaires bénéficient au projet et l'enrichissent de manière continue. Le projet s'en retrouve dès lors d'autant plus co-créé au sein d'une communauté multiple et large, allant au-delà des frontières géographiques,  thématiques et conceptuelles initialement envisagées.
Un des grands défis sera, tout au long du projet, de pouvoir nourrir le corpus de recherche – au sens large – de ses apprentissages, innovants par rapport à ce qui a été réalisé jusque-là. Des passerelles entre les différents mondes de la recherche seront plus que jamais nécessaires.
Références
Bauler, Tom, and Bonno Pel. 2014. 'The Institutionalization of Social Innovation: Between Transformation and Capture'. TRANSIT Working Paper  2, October.
Bifulco, Lavinia. 2013. 'Citizen Participation, Agency and Voice'. European Journal of Social Theory 16 (2): 174–87.
Bovaird, T., G. Stoker, T. Jones, E. Loeffler, and M. Pinilla Roncancio. 2016. 'Activating Collective Co-Production of Public Services: Influencing Citizens to Participate in Complex Governance Mechanisms in the UK'. International Review of Administrative Sciences 82 (1): 47–68.
Bovaird, Tony. 2007. 'Beyond Engagement and Participation: User and Community Coproduction of Public Services'. Public Administration Review 67 (5): 846–60.
Brousseau, Eric, Tom Dedeurwaerdere, and Bernd Siebenhüner. 2012. Reflexive Governance for Global Public Goods. Vol. 1. MIT Press Books. The MIT Press. http://econpapers.repec.org/bookchap/mtptitles/0262516985.htm.
Carayannis, Elias G, Thorsten D Barth, and David FJ Campbell. 2012. 'The Quintuple Helix Innovation Model: Global Warming as a Challenge and Driver for Innovation'. Journal of Innovation and Entrepreneurship 1 (1).
Coenen, Frans H. J. M., ed. 2008. Public Participation and Better Environmental Decisions: The Promise and Limits of Participatory Processes for the Quality of Environmentally Related Decision-Making. Dordrecht ; London: Springer.
Denhardt, Robert B. 1999. 'The Future of Public Administration'. Public Administration & Management:   An Interactive Journal 4 (2): 279–92.
Hoover, Kenneth R., and Todd Donovan. 2011. The Elements of Social Scientific Thinking. 10th ed. Boston, MA: Wadsworth Cengage Learning.
Hurard, Marine. 2011. 'La Participation Citoyenne Au Développement Durable à l'échelle Locale En Europe'. Collection Working paper, Bruxelles.
Innoviris. 2014. 'Co-Create : Systèmes d'alimentation Durable En Région de Bruxelles-Capitale Modalités de l'action'.
———. 2015. 'Co-Create Pour Une Résilience Urbaine En Région de Bruxelles-Capitale: Modalités de l'appel à Projets'. http://www.innoviris.be/fr/documents/co-create-modalites-2016.pdf.
———. 2016. 'Co-Create Pour Une Résilience Urbaine En Région de Bruxelles-Capitale: Modalités de l'appel à Projets 2017'. http://www.innoviris.be/fr/documents/co-create-2017-modalites.
Johnson, J.B., and H. Reynolds. 2005. Political Science Research Methods. CQ Press. Washington DC.
Johnson, R. Burke, Anthony J. Onwuegbuzie, and Lisa A. Turner. 2007. 'Toward a Definition of Mixed Methods Research'. Journal of Mixed Methods Research 1 (2): 112–33.
Marsden, Terry. 2013. 'From Post-Productionism to Reflexive Governance: Contested Transitions in Securing More Sustainable Food Futures'. Journal of Rural Studies 29 (January): 123–34.
McCormick, Kes, S. Kraines, C. Doll, G. Trencher, and M. Yarime. 2014. 'Beyond the Third Mission: Exploring the Emerging University Function of Co-Creation for Sustainability'. Science and Public Policy 41 (2): 151.
Moyson, S. 2016. 'Policy Learning over a Decade or More and the Role of Interests Therein: The European Liberalization Policy Process of Belgian Network Industries'. Public Policy and Administration, December.
Moyson, Stéphane, Steven van de Walle, and Sandra Groeneveld. 2016. 'What Do Public Officials Think about Citizens? The Role of Public Officials' Trust and Their Perceptions of Citizens' Trustworthiness in Interactive Governance'. In Critical Reflections on Interactive Governance Self-Organization and Participation in Public Governance, J. Edelenbos & I. Van Meerkerk (Eds.). Cheltenham: Edward Elgar.
Roorda, Chris, Julia Wittmayer, Pepik Henneman, Frank van Steenbergen, Niki Frantzeskaki, and Derk Loorbach. 2014. 'Transition Management in the Urban Context: Guidance Manual'. Rotterdam, The Netherlands: DRIFT,Erasmus University Rotterdam. https://drift.eur.nl/wp-content/uploads/2016/11/DRIFT-Transition_management_in_the_urban_context-guidance_manual.pdf.
Sabatier, Paul A., and Chis M. Weible. 2007. 'The Advocacy Coalition Framework: Innovations and Clarifications'. In Theories of the Policy Process. Westview Press.
The Triple Helix Research Group. 2015. 'The Triple Helix Concept'. Stanford University. http://triplehelix.stanford.edu/3helix_concept.
Torfing, Jacob, B. Guy Peters, Jon Pierre, and Eva Sørensen. 2012. Interactive Governance: Advancing the Paradigm.
Voß, Jan-Peter, Dierk Bauknecht, and René Kemp, eds. 2006. Reflexive Governance for Sustainable Development. Cheltenham, Glos, UK ; Northampton, MA: Edward Elgar.
[1] Innoviris finance des projets de recherche scientifique menés par des entreprises et organismes de recherche implantés sur le sol bruxellois.