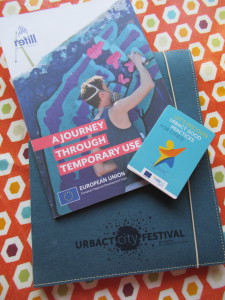 The URBACT City Festival in Lisbon, Portugal, on 12-14 September 2018, is the third URBACT City Festival that has taken place and that I have attended. Back in 2015, the first City Festival in Riga promoted the launch for the new URBACT III Action Planning Networks and together with François Jégou, we facilitated a workshop on our capitalization work on Social Innovation in cities. The second City Festival, in 2017 in Tallinn, promoted the 97 labelled Good Practices and I facilitated two workshops including one citizens' and stakeholders' participation for environmental projects. This years' festival is going back to the Riga one by celebrating the URBACT III APNs, where François Jégou and I will diffuse the outcomes of the REFILL network on Temporary Use.
URBACT is good at capitalising: at extracting what takes place in cities in order to make it visible to other but also at gratifying those making a positive change, and acting as drivers, at home and beyond, for a more sustainable society. My fanaticism for URBACT is not new. Each time URBACT surpasses itself and goes in unexpected directions. The first City festival was highly intense, diverse and rich, with a high focus on creativity. The second one was focusing on the experiences of the good practices – and their concrete work, networking, and learning from each other. This year, it is expected to be once again full of energy and key takeaways, while focusing on what we have achieved in the APN but also in the past 15 years of URBACT. How is going to feel like? Who are we going to meet and get inspired from? Who and what will surprise us? What will we take home? I must say, a few days before the opening cocktail, I am both excited and curious: what has URBACT imagined this time, in order to make change happen in our cities, throughout concrete actions, a network of like-minded practitioners and experts, serious and intense work, under the misleadingly relaxing name of "CITY FESTIVAL"?
This blogpost will be updated with key insights after the City Festival will have taken place.